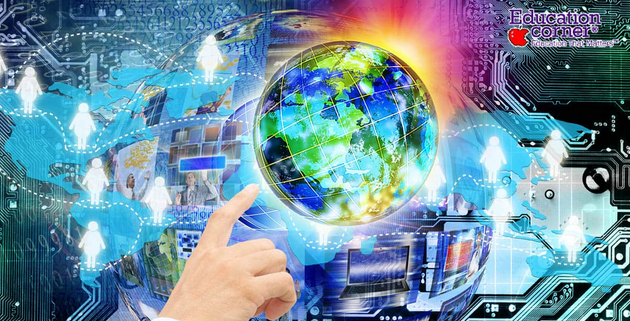 Welcome to Queen's University of Charlotte! This guide was designed to help new students ease into the account set up process and answer our more frequently asked questions.
This is by no means an exhaustive list, so if you have suggestions for something you think students should know about, email helpdesk@queens.edu
Table of Contents
When do I get my account information?
How to change my password – mypassword.queens.edu
MyAccount – MyAccount.queens.edu
Printing on Campus - Follow Me Printer
When do I get my account information?
All students are issued a username containing a combination of your name and possibly a number. Accounts are generated typically 24-48 hours after the deposit has been paid with the registrar. An email will be sent to the personal email provided containing the first time log in instructions. Please check your spam/junk folder.
If you're unable to locate your account information, please contact the Help Desk. Have your Full name, Date of birth and Queens ID number ready for security verification.
Queen's uses Microsoft 365 Outlook for email services. This can be accessed on any browser, and Outlook Desktop and Mobile applications.
To log in: 
Go to mail.queens.edu
Sign in with your @queens.edu email address and your password.
Your email address is your username + @queens.edu ie: SmithJ@queens.edu
(if this is your first time logging in, your password is located in your welcome email)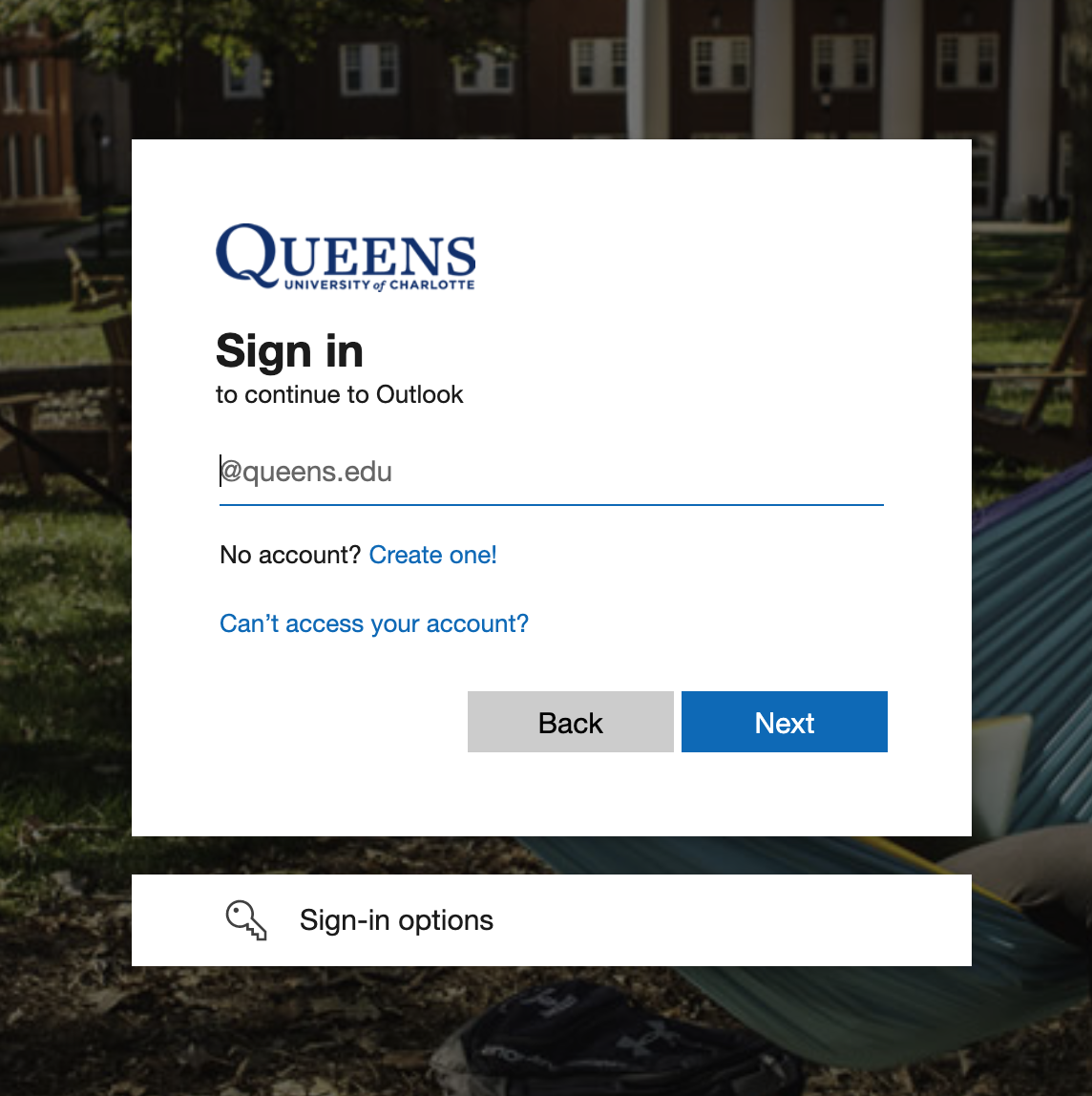 Complete any security verification questions. This is required in order to access the self-service password reset tool. Without this, you will need to contact the IT Help Desk to reset your passwords.

You will be prompted to verify your identity with Duo 2FA
Duo Security (DUO 2FA)
All students, faculty and staff are required to register and use two-factor authentication (2FA) via Duo Security. 2FA helps prevent unauthorized access to university email and online applications as a result of phishing and scams.
To set up a Duo 2FA account and or register a new device, please follow the steps in this link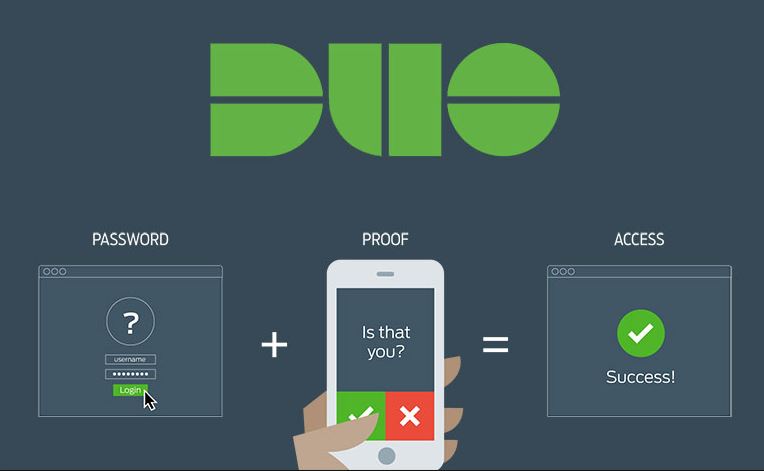 If you registered your security questions when you first logged into your email, you will be eligible to reset your password on your own at mypassword.queens.edu (your user id is your full Queens email address)
If you are unable to use the self-service function, you will need to contact the IT Help Desk to reset your password. Have your date of birth and Queens ID number ready for account verification.
MyAccount can be accessed at myaccount.queens.edu
This portal will allow you to access services such as:
 -Personal and Account Information
 -Student Schedule, Online Registration, Unofficial Transcript, Academic Information, Academic Calendar, Course History, Grade Report and GPA Projection.
 -Account Balances, Make a Payment and Financial Services Access Code.
Please contact the Registrar if you have any questions or problems with the information inside MyAccount. The IT Help Desk cannot assist with any course information and registration.
Logging into MyAccount

Please take caution that MyAccount has a slightly different login method than other Queen's sites.
Enter only your username, not your full email address when signing into MyAccount
For example: SmithJ instead of SmithJ@queens.edu

If you receive an invalid login error, please reset your password at mypassword.queens.edu and try signing in again.
University Networks
Queens has three main wireless networks available for use. If you reside in the residence halls, you may also have a wired ethernet connection available for use in your dorm room.
QU-WiFi
For use with your computer, laptop, tablet or phone. 

Required to use the on campus printers.

Requires your Queens username and password to authenticate. 
QU-Gaming
For use with gaming consoles, streaming media devices (e.g. Xbox, Apple TV, Roku, Smart TV etc).   

Instructions for connecting can be found Here.   

Note that if you have a wired Ethernet port available in your residence hall location, you will likely have better performance.  This is particularly true for graphic intensive multiplayer gaming.
QU-Guest
For guests who don't have a Queens account. 

This network is not available in the Residence Halls.
If you are experiencing issues with the network, contact the IT Help Desk, be sure to include your location/building/room number and the type of devices you're connecting.
Canvas is Queen's online learning management system (LMS), where you can view classes, grades, and any additional content provided for your classes (videos, discussion boards, etc.).
You can access Canvas by logging in with your EMAIL username and password.
For any questions or problems within the Canvas system, Students should contact Canvas support first. Canvas in-house support is available all 24 hours of the day.
This includes tutorials, issues with content loading, course material, discussion postings, assignment submission and general website troubleshooting.
ALL Students can contact Canvas Support a number of ways, most are accessed by clicking on the 'Support' button in the main menu on the Canvas site.
You can also call the Canvas Support Line 24/7 at 855-286-2066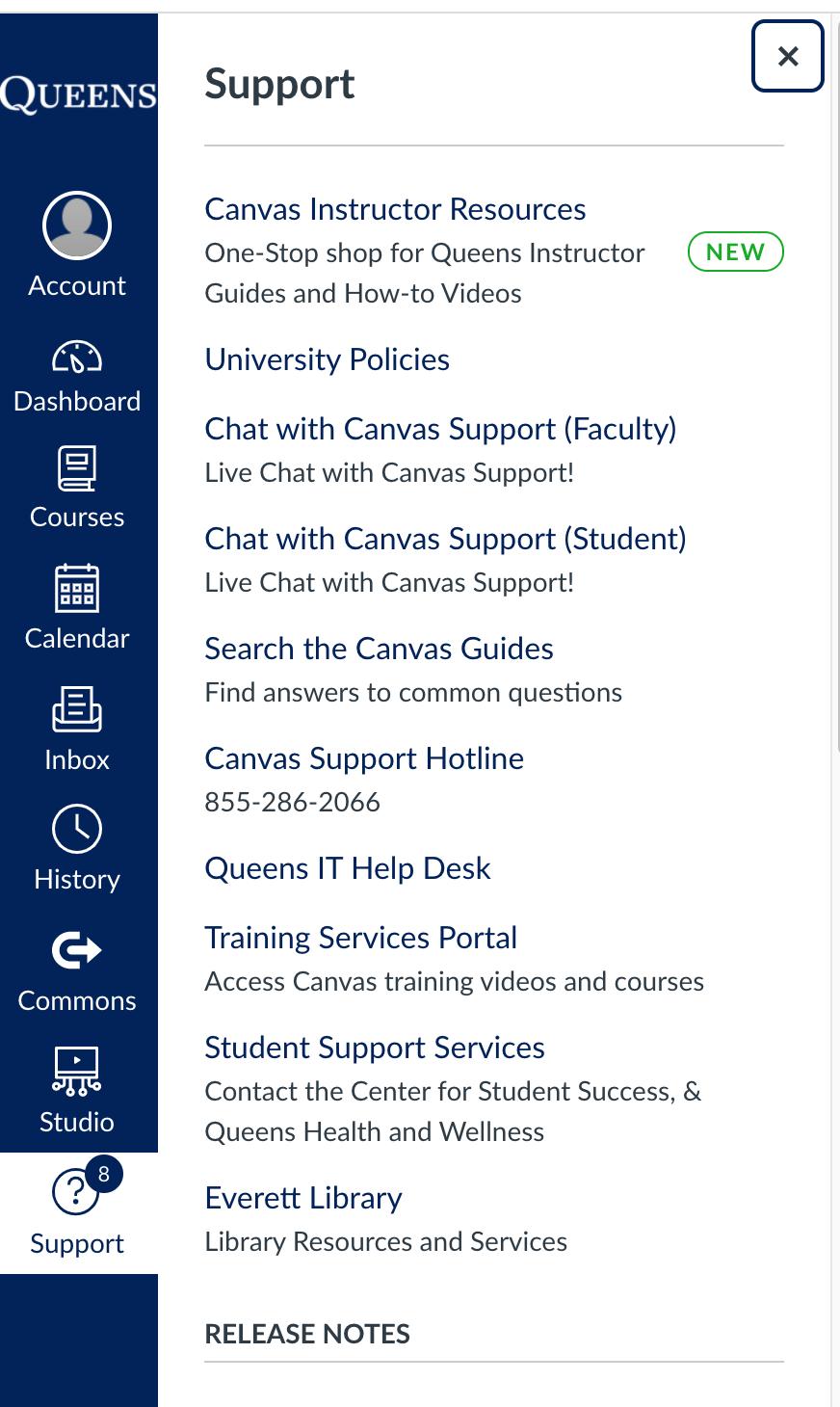 RingCentral
RingCentral is our main video conferencing and communications platform. A general use account is provided at no cost to all students. You will receive an email from RingCentral with instructions on how to access the software before your first day of courses.
You can access RingCentral on the web at app.ringcentral.com or you may download the app at https://support.ringcentral.com/download.html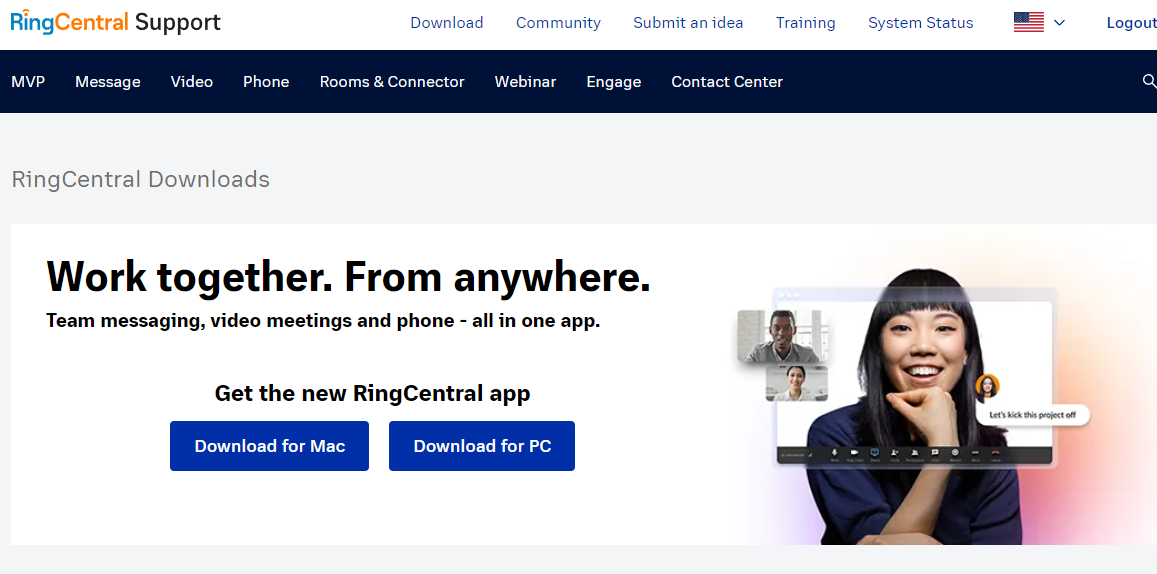 When accessing RingCentral, always be sure to use the 'Single Sign-On' option and your full Queens email address as the username.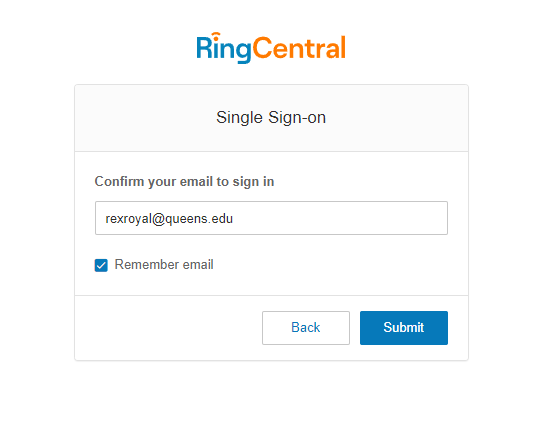 Software for Students
Microsoft Office 365
Queen's University of Charlotte offers a subscription to Microsoft Office 365 for all students, faculty and staff using your Queens email account. You can find more information here on how to access this software suite.
Adobe Creative Cloud and AutoDesk Software
Adobe Creative Cloud, Autodesk and their suite of programs are available at no cost to students that are enrolled in courses that REQUIRE these programs. Please contact your course instructor for more information.
Computer labs
Computer Labs are located all over campus for student use. For a list of hours and locations click here (you will be required to sign in to access the page.)
Printing on Campus - Follow Me Printer
'Follow Me Printer' allows you to send print jobs to be retrieved any time at any Printer on campus. Simply tap your Queens ID Badge to the card reader at any Printer, (your first time you will need to manually enter your email and password on the screen) then proceed with printing the jobs that appear on screen. You can also touch the device functions button to access copying and printing.
Printers/Copiers/Scanners have been strategically placed all over campus, you can find one near most common areas and the library.
To install the printer on your own device follow the instructions here.
Laptop Loaners

The Everett Library has a limited stock of laptops available for student check out. Please contact the Library for more information – library.queens.edu
Laptop Recommendations:
The base computer specifications Queens recommends are:
I5 – i7 Processor
8GB RAM
256GB HardDrive
** Students in Interior Design or courses that require a more graphic centered computer processes, we would suggest something more powerful. We would also suggest a graphics card. The course instructors may have more input on those.
However, if the student is solely using the PC for classes that don't require a heavy graphical load, we would suggest the above base specifications.
Q news
Q News is a campus wide newsletter that goes out via email on Tuesdays and Thursdays. This often contains information of upcoming events and other campus functions. All students should receive this by default. Please contact the IT Help Desk if you are not receiving these emails.
Student Profile Changes
To update your student profile information, please contact the registrar or your advisor so they may confirm the correct information. The IT Help Desk cannot make changes personal information.
IT Department and Help Desk
The IT Department and Help Desk is staffed Monday – Friday 8am to 5pm EST. The office is located in Watkins Hall on the First Floor near Campus Police. Enter through the middle doors facing the quad.
To quickly find answers to your questions, search our Knowledge Base. If you still need help, you may reach us in person by visiting during office hours, by Chat on our website, by email at helpdesk@queens.edu or phone (704) 337-2323.
Be sure to include your full name, email/phone number and as much information as possible in your initial request to help expedite the troubleshooting process.