Faculty/Staff mac device should have the proper print driver installed to access all printing features. If these options are not available on your computer, or you're a student printing from your mac device please view the install instructions here. 
These instructions reference Microsoft Office products such as Word, Excel, PowerPoint, and Outlook.  All other mac applications may follow a different setup. Typically options such as Advanced ,Page setup, or drop-down located under presets will present you these same options in other applications. 
1.) File -> Print and select Printer Features from the Copies & Pages drop-down menu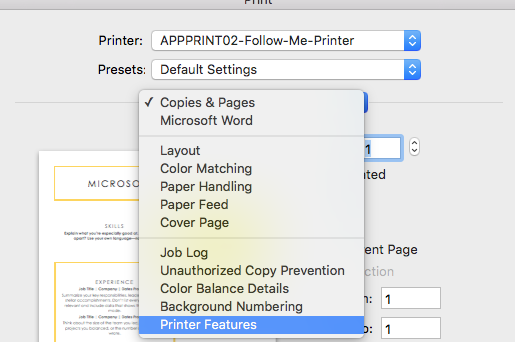 Printing Color or Black/White documents
1.) Ensure Printer Features  drop down is selected. Next to Color Mode, you will select Black and White or Color depending on your need.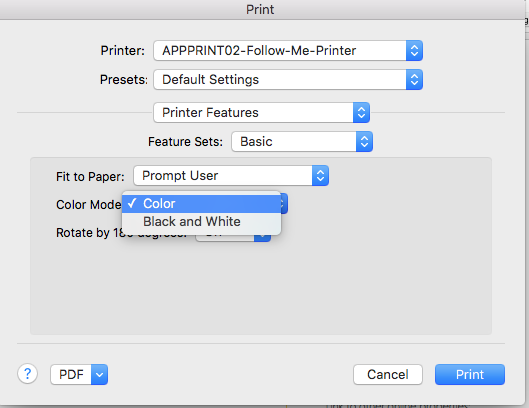 Choosing Paper Size
1.) Change the Printer Features drop-down to Paper Handling 
2.) Check the Scale to fit paper size checkbox
3.) Proceed with selecting desired paper size from the drop-down menu
Double-Sided Printing
1.) The drop-down menu under Presets should be changed to Layout
2.) The drop-down next to Two-Sided should be listed as Long-Edge binding. Note: Short-Edge binding will print the back side of your document up-side down.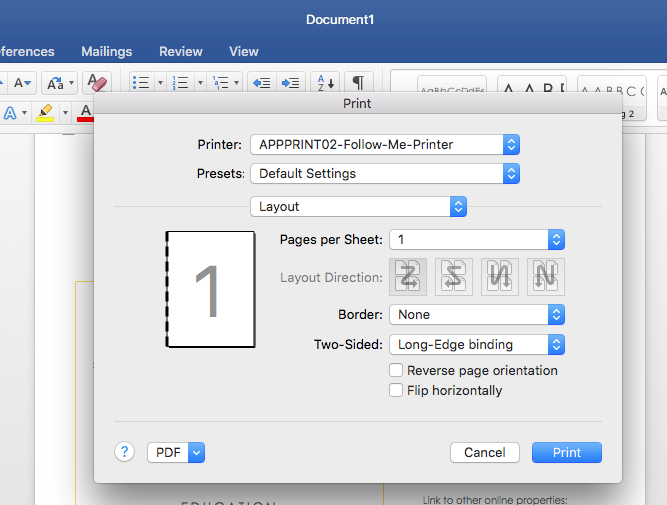 Choosing Alternate Paper Tray
1.) The drop-down menu under Presets should be changed to Paper Feed